In the UK, cars are a necessity unless you live in Big City. When you buy a car in the UK, you need to ensure it before you can legally drive it on the road. Nowadays, buying car insurance is very convenient. The whole process is processed online and it will take effect immediately after payment or alternatively you can choose a date on when your insurance will start.
How to buy a car in the UK, please click here!
How to exchange a non-UK license plate for a UK license plate, please click here!
When buying Car insurance, there are a few things to consider:
Consider the Car Insurance covering

Third-party only: This only covers damage you've caused to other vehicles. Damage to your own car is not covered.
Third-party, fire, and theft: This is the same as above but you are also covered if your car is stolen, or damaged by fire.
Comprehensive: You're covered for everything above and damage to your own car.

UK driving license or an international driver's license
How much NCB do you have? (No Claim Bonus is a discount on your insurance premium if a vehicle owner has not made any claim during the term of the motor insurance policy. For each year you've not made a claim, your discount increases. Should you make a claim, you will lose all your NCB unless it's protected.)
Personal use, such as leisure, daily work, or commercial use
Parking at night, such as a garage, parking lot, private road, roadside, etc.
How many named drivers (A named driver is someone who is insured to drive a vehicle in which another person does most of the driving. When driving that vehicle, the named driver will have the same level of cover as the main driver.)
Each of the above items will affect the premium of car insurance, such as use the UK driving license will have a lower car insurance premium; if you have NCB, the car insurance premium will also be lower, when you park at the parking lot/private road, will have cheaper car insurance premium than the roadside. In addition, the value of the car, the age of the driver, the number of years to receive the license plate also will affect the car insurance premium.
Before buying a car, it is recommended you check the cost of insuring it first so that you aren't surprised by the cost.
The following websites can compare the premiums of different auto insurance companies
https://www.topcashback.co.uk/category/car-insurance/
https://www.gocompare.com/car-insurance/
https://www.moneysupermarket.com/car-insurance/
https://www.comparethemarket.com/car-insurance/
https://www.moneysavingexpert.com/car-insurance/
The following are the 10 auto insurance companies with the highest market share in the UK in 2019.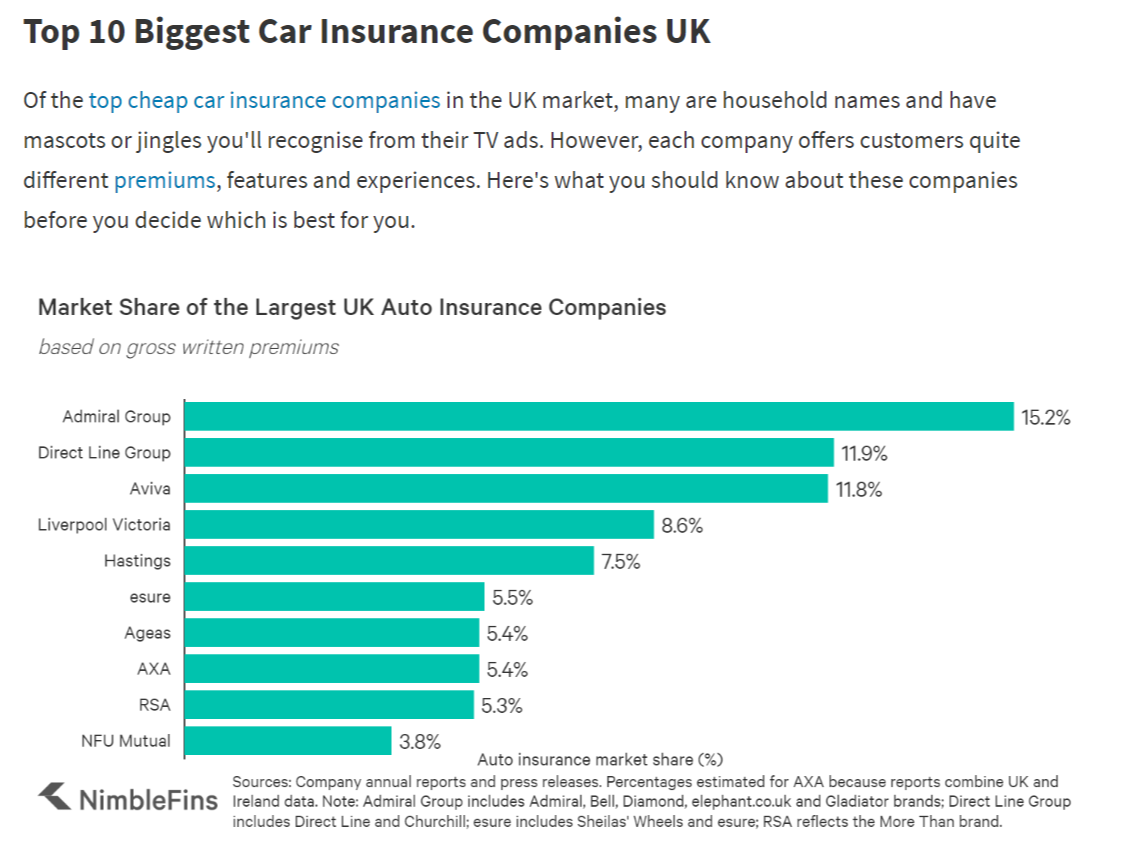 Source: https://www.nimblefins.co.uk/largest-car-insurance-companies