Last Updated: 15th August 2020
Many people will study which city to settle in before immigrating. In addition to the place of work, one of the factors considered by many families is the school rating and the catchment area of that school.
A Catchment Area in the UK refers to the admission distance of the school. This means that residents in this area can apply to that school. The catchment area of a school is the straight-line distance from the school's to an applicant's residence. Because the number of applicants is different every year, the straight-line distance of the school's admission varies from year to year. A lot of people move near the school to ensure their child can get an offer from their school of choice.
According to the previous two articles on applying for admission and allocation (linked below), you will know that the admission rules of British schools are that the closer to the school you live, the more likely it will be to be accepted and because the population density is relatively low in UK, there are usually not many primary schools near a residential area, so there may not be many primary schools you can choose from. Even if there are many good primary schools or secondary schools in your area, you can only choose the 3-4 schools closest to your home.
How to Apply for State School (Primary School & Secondary School)
How to Apply State School (In-Year Application for Primary School & Secondary School)
If the school is farther away, will you always be rejected?
It depends on how many children enrol in each school. If the school is popular, the council will make offers to children who live closer to the school. If you live far away, it will be harder to get an offer.
Take Wilmington in the city of Kent, as an example. Although there are many primary schools in Wilmington, the schools are scattered.
The picture below shows the Catchment Area of ​​Wilmington Primary School. You must live in a green circle before you can apply to this school. There are only 4 primary schools near this green circle, so if you live to the west of Wilmington Primary School, you can also choose three other primary schools a little bit west (as well as Wilmington Primary School).
If you live in the east of Wilmington Primary School, there are only two primary schools to choose from. Therefore, whether there are many good schools in a county or a city with many good schools, the most important factor is whether they are in your catchment area. As long as the nearest school is good, the number of schools isn't necessarily important.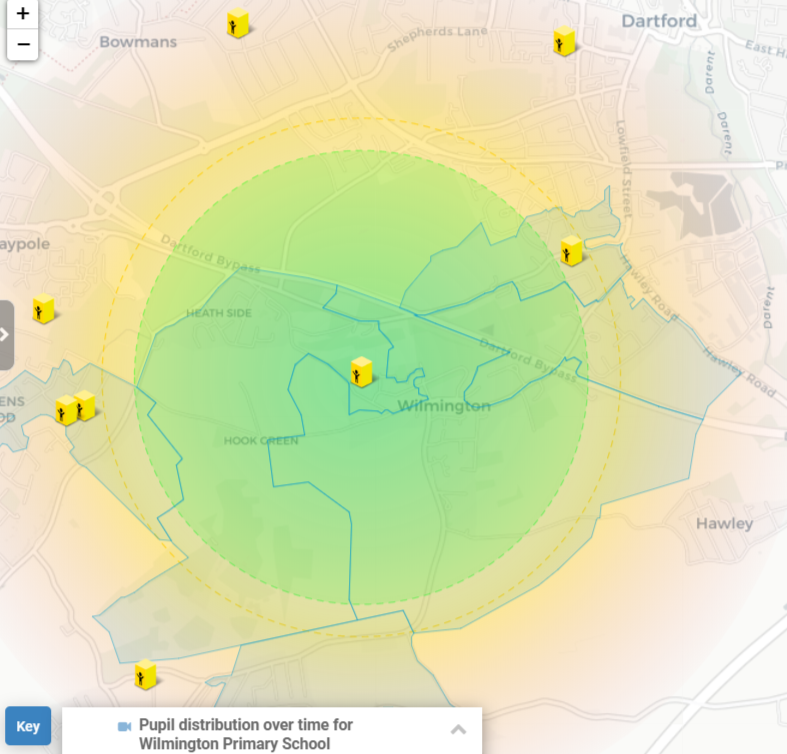 How about Secondary school?
The admission distance in secondary schools will be a bit larger but the number of schools will be fewer.
Similarly for Wilmington, when you go from primary school to secondary school, the school you can choose is probably the school in the green circle in the picture. However, four of them are Grammar Schools, one is a sixth form high school, so there are only two state schools that can be selected.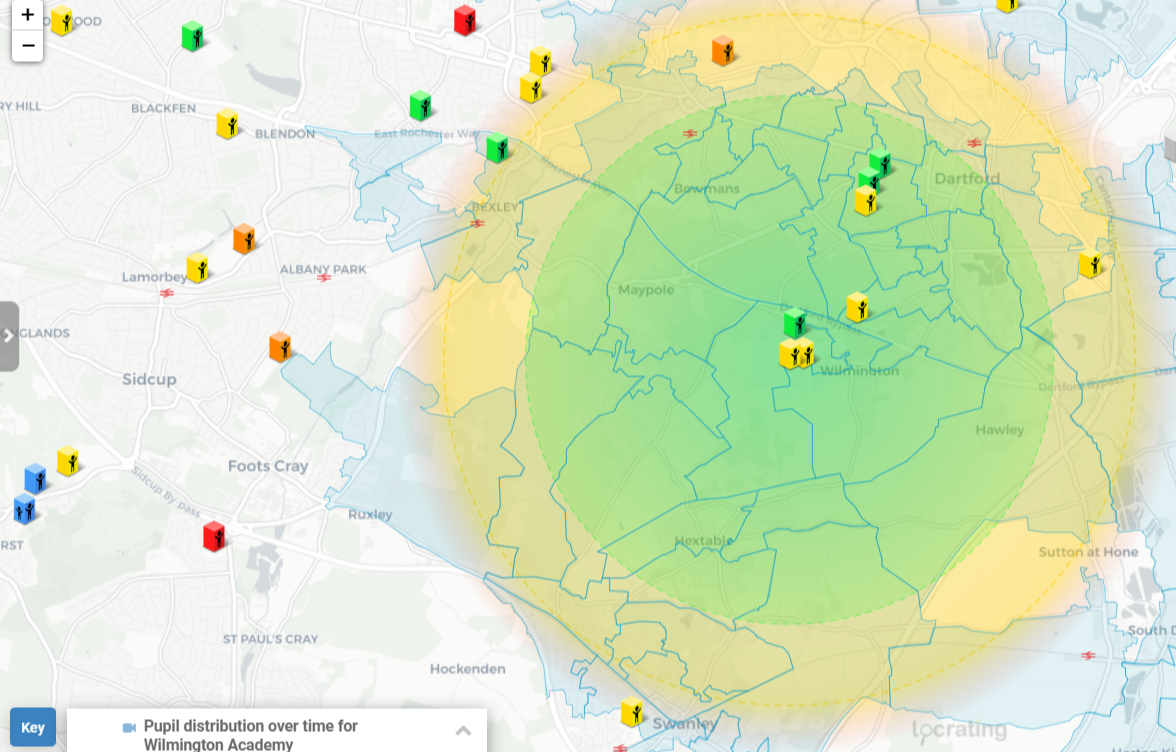 Are Grammar Schools good?
Most Grammar Schools had a higher exams result, but students need to take the 11+ ( 11+ is the exam for year 6 students) at the beginning of Year 6 and have a high enough score to enter Grammar School. The rest of the students are based on the admission standards of the school, which is also based on the straight-line distance from your home to school.
If the children are already Secondary school students when they arrive in the UK, it can be difficult to make an in-year application due to long waiting lists.
Moreover, not every city has a Grammar School. For those cities that don't have a Grammar School, you will be able to choose from state schools or private schools.
All in all, because state and some grammar schools use distance as a condition for enrolment, applicants can only choose schools near where they live.
The above school admissions straight-line distance method is for children who apply for admission according to the normal procedures. If children need to make in-year applications, the requirement is that the school of choice must have places available, otherwise, there is no way to accommodate additional students even if they live next door.