Last Updated: 1st August 2020
After your visa is successfully approved, besides settling in the family and buying new home supplies, the next biggest concern is how to apply for school.
If the child is not yet of primary school age, please refer to the previous article [How to apply for a UK primary or secondary school]
If children are over 5 years old when they arrive in the UK, they need to make an in-year application to primary or secondary school (depending on age).
What is the in-year application procedure?
The procedures for transfer to Primary schools and Secondary schools are roughly the same. You will need to Provide:
1) Proof of address
2) Child's passport
3) Admission application form
The admission application form can be downloaded from the Council webpage of each district. If you don't know which council you belong to, you can follow the government webpage and enter the address Post Code.
https://www.gov.uk/apply-for-primary-school-place
https://www.gov.uk/apply-for-secondary-school-place
What do I need in order to fill in the application form?
Let's take the Westminster Council's In-Year Admission application form as an example (this is just an example so please download the application form of the council you belong to)
https://www.westminster.gov.uk/sites/default/files/biborough_primary_in-year_form_interactive.pdf
The first part:
Child profile
Note that the application form needs your Council Tax Number as proof of address. This will be found on your council tax letters.
The second part:
Parent Information
Parts 3, 4, 5:
Children's background. Since the children are immigrating to the UK, the education background in Part 5 can be filled in from the original school.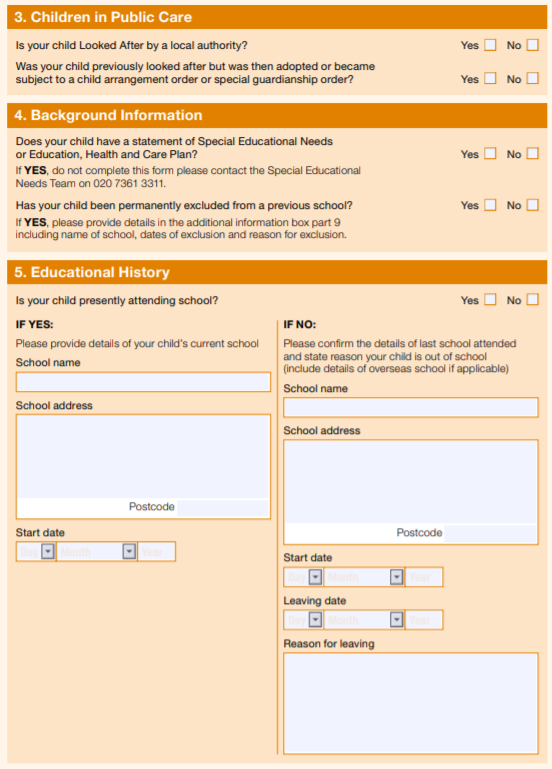 Part 6
Please select a school, fill in the Local Authority, whether there are any siblings studying, and fill in the reason for choosing this school.
Usually, you can choose 4-6 schools, depending on different Councils, and the Council will start from your first choice to see if the school is available according to the school chosen by the parents.
What if there are no vacancies in the 4 selected schools?
Then the Council can arrange the place from a school which has a place for the child.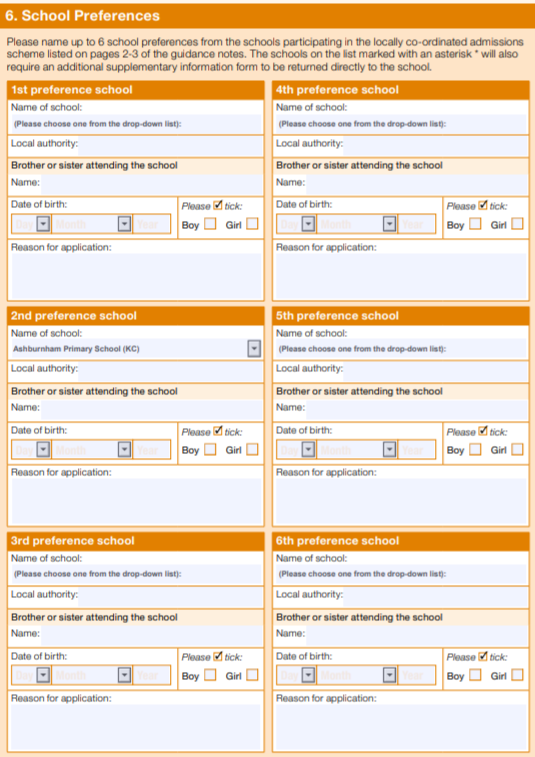 Part 7:
If the child is immigrating to the UK or returning to the UK,  you should fill in the arrival date.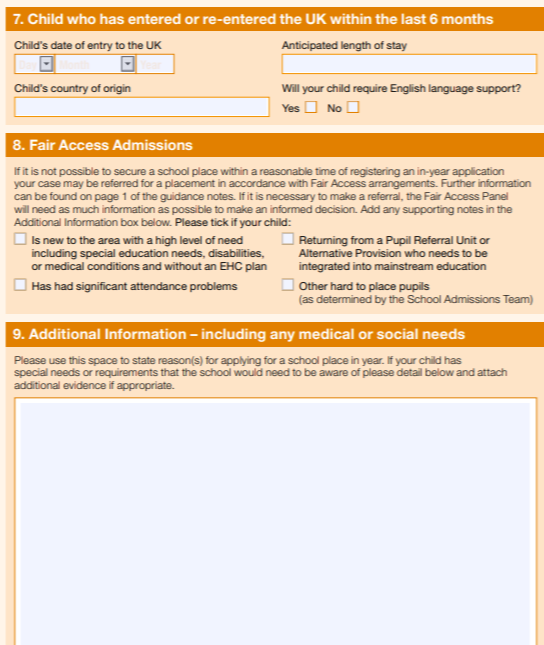 Parts 8, 9
Additional information section
Part 10 Signature, date, and confirmation of application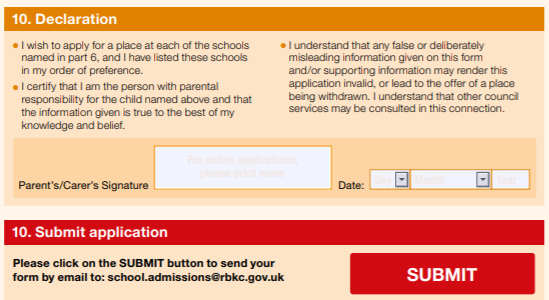 There may be slight differences in each council's application form, please make sure you refer to your own council requirements.
After you email the application form to the Council, you will receive an offer form the council in about 2 weeks. You will then follow the instruction from the council, and contact the school for admission.
After finishing all the processes above,  your child will be able to participate in their new school!