Last Updated: 25th July 2020
What about my beloved pet when immigrating to the UK?
Immigration to the UK has to deal with as many tasks as there are stars. In addition to the family who has to fly to the UK, family members also include beloved pets. To apply for pets to immigrate to the UK such as cats, dogs or even ferrets (other pets have different immigration conditions), the following requirements must be met:
has been micro-chipped
has a pet passport or third-country official veterinary certificate
has been vaccinated against rabies – it will also need a blood test if you immigrate from an 'unlisted country'
Dogs must also have a tapeworm treatment.
Your pet may be put into quarantine for up to 4 months if you do not follow these rules – or refused entry if you travelled by sea. You're responsible for any fees or charges.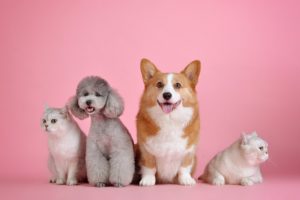 Before leaving for the UK:
Please check if your Airline/ Vessel can accept your pet for travel. If you bring more than one pet, how many pets will they accept?
You need a pet health certificate to ensure that your pet is fit for travel and healthy, such as a certificate from a veterinarian or a pet passport centre.
Note that you are not allowed to bring more than 5 pets to the UK, except for competitions, performances, or sports events. Please click here for more detailed requirements.
How to get a pet passport:
You can get a pet passport from a vet authorised to issue them in countries the UK accepts pet passports from.
When you get a pet passport you'll need to take:
The passport is only valid if you meet the entry requirements.
You should travel with previous pet passports in some cases, for example, if your pet has had a blood test. Ask your vet if you think this applies to your pet.
Only vets in countries that the UK accepts pet passports from can enter information into the pet passport (except for tapeworm treatments).
When all treatment spaces in the pet passport are filled, you need to exchange for a new pet passport.
Before you travel
Check that the vet has filled in the following sections in the pet passport:
details of ownership – you must sign section I if your pet passport was issued on or after 29 December 2014
description of pet
marking or identification of pet
vaccination against rabies
rabies blood test (if needed)
details of the vet issuing the passport (for passports issued from 29 December 2014)
your dog's tapeworm treatment (if needed)
The UK accepts pet passports from the following countries:
All EU countries and the following countries/regions outside the EU (excerpt, please click here for a list of all regions):
Australia
Canada
Hong Kong
Japan
Malaysia
New Zealand
Singapore
Taiwan
United States (including American Samoa, Guam, Northern Mariana Islands, Puerto Rico, and the U.S. Virgin Islands),
For the full list of countries/regions that accept pet passports in the UK, please refer to the following UK government website:
https://www.gov.uk/take-pet-abroad/listed-and-unlisted-countries
Here are some pet immigration companies. You can compare the prices and service plans before deciding which one to use. (We are not affiliated with any of these companies and can't vouch for the quality of their work.)
Petcific https://www.petcific.com.hk/
PetHoliday https://petholidays.hk/
Ferndale https://www.ferndalekennels.com/zh/
Pet Mover http://www.petmovershk.com/
Export a Pet https://www.export-a-pet.com/zh-hant
Pets are part of the family. Please arrange pet immigration in advance so that you can start a new life in the UK with your owner.
*Please note that if you plan to rent a house for the first time in the UK, please confirm with the landlord/rental agent that pets are allowed in the house. Some owners indicate that pets are not allowed.